Glossybox September 2014 Collaboration with Harper's Bazzar!
This months Glossybox is a collaboration with Harper's Bazaar! I find most of their collaborations to be fantastic, although none will ever beat the Bergdorf collaboration. To be clear, this is the regular September box and not an additional for purchase box, so every subscriber will be enjoying this. They are placing a value of $60 on this box, here's the breakdown:
OCC  Lip Tar (Obsessive Compulsive Cosmetics)
Black Dalia
Authentic
This first one is what I'm most excited to get, I own a few of these and they are really different from your normal lip product. They are like a stain in there lasting ability, but you can easily mix them to create custom shades. The options are Black Dalia (a gorgeous berry red) or Authentic (a orange shimmer that's wearable).  They are each FULL SIZED!!! .33oz with a value of  $18! This makes the box for me, so happy to get one of these!!
Vichy Liftactiv Night
Day Cream
Night Cream
So I had a little trouble finding the item pictured in the spoiler photo, it's a white jar and all the Vichy night creams are blue?!?! Maybe the sample is just provided in a white jar? I'm not 100% sure what to think…ether way the creams run $50 for 1.7 oz and claim to combat the signs of skin aging by visibly reducing the appearance of wrinkles & helping to boost skin's firmness. The size in the box is 0.51 oz with a value of $14.70.
Benefit, they're real! Mascara
Not this old thing again! Well for those of you who love it this maybe an exciting item, but for me I've received too many of these to care. The formula isn't my favorite (some people love it), I find it dry, the wand to be blah and most importantly my lashes don't look anywhere fake or good for that matter. I have tried the full sized and the sample size, both yielded the same lack luster lashes. The size will be 0.1 oz with a value of $7.66.
Essie She's Pampered or Essie Madison Ave-Hue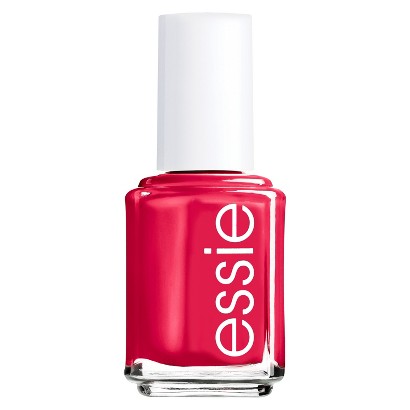 She's Pampered   
Madison Ave-Hue
This is the other FULL SIZED product!! The colors a both wearable and the brand is one I enjoy, double score, I think She's Pampered is my favorite of the two. Nice to see this brand and pricing runs $8.50 per 0.5 oz polish.
Bvlgari Eau Parfume eau thé vert Conditioner or Bvlgari Eau Parfume eau thé blanc Conditioner
This will be the second month in a row I've received conditioner, but at least last month we also received the shampoo. I know Glossybox likes to send out this brand, but this item looks like it's been discontinued! The same thing happened with a Bvlgari parfume in October or November  of last year. The only place selling this is amazon…$6.66 2.53 fl oz.
Overall I'm excited to get this box, the lip tar and polish are A+ for me. As far as the face cream, I've tried the brand and wasn't overly impressed, although I really enjoy La Roche Posay (a sister brand to Vichy) so I'll give it a shot. The mascara and conditioner are going to be re-gifted to a friend who will like them more. The total value for this box is $55.52 with most of the value being in the products I like!